The Benefits:


Evidence shows that just one class a week can deliver improved health and wellbeing to individuals, which leads to a happier, healthier and more productive workplace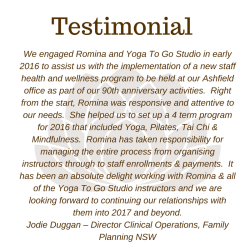 The benefits are numerous and include the regular release of stress and tension and improved flexibility, strength and fitness levels, whilst teaching important life skills such as good posture, full breathing, focus and relaxation.
After our classes people have reported feeling calm and re-energised, with an increased ability to manage stress and a greater capacity for productivity. Yoga & Pilates are not a quick fix, however – but they will lead to a gradual and sustained shift in the way your employees balance their work and life.
Who Can Get Involved?


Anyone can do our classes. We cater for everyone from the absolute beginner through to more advanced students, from younger to the more mature staff and can tailor each class to suit the individuals in the group.
Our qualified teachers are committed to their craft and trained to the highest industry standards. They are able to manage and work with a number of health conditions and injuries, including diabetes, high blood pressure, scoliosis and pregnancy - but please advise us about any of these ahead of class.
---
How does it work?


We recommend and offer a 12-week program, running one class per week. Each activity or modality is run in a four-week block to allow time for the full benefits of a consistent practice to be experienced. We also offer 4, 6 and 8 week programs to meet your individual needs.

You can also choose to continue with additional 12-week programs directly after or at regular intervals throughout the year - for ongoing and increased health benefits.
Our classes can be held at your workplace, offsite at another location or at our fully equipped Studio in Petersham. Choose from a 45 or 60-minute class and nominate a time that's convenient for your team, such as lunchtime, before or after work.
---

Introductory class::


We offer one FREE introductory yoga or Pilates class so you can give it a try before committing to the full 12 weeks.
For more information including our Program fees and to book your Introductory class, contact Romina on 02 9569 0870 or via e-mail at
info@yogatogo.com.au