We are happy to advise that over the coming week we will commence taking orders for the Anthropic Skin range of leggings, find out more about the brand and the team behind the range by reading on.
Anthropic Skin is an ethical, boutique active-wear designer collaboration between Mathew Bergan and Clare Lovelace based in Sydney, Australia. Garments feature bold and unique placement print, wearable art - designed by local artists, tattooists & graffiti artists.
Garments are 100% sweatshop free and made within Sydney, Australia. They handle the urban terrain with style and sophistication - they look hot and are comfortable to wear. They are perfect for yoga, running, cycling, gym-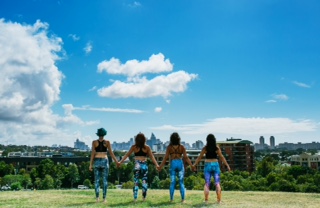 wear, street wear and evening wear.
We are yoga teachers living with passion, yogic consciousness and sustainable, environmental lifestyles. Our mission is to raise awareness & provide support for disadvantaged animals and humans living in inhumane conditions throughout the world. By purchasing our garments you are directly supporting those who do not have a voice.
Our aim is to remind people about worldly causes and to consider aligning their consciousness through the clothes they wear.
We believe that our karma (action) relates directly to the changes we wish to see in the world. We consciously live in accordance with the 8 limbs of yoga (morals, ethics, good health, breath, contentment, happiness) and we want this ancient wisdom to be reflected in our business model.
Instagram @anthropicskin
Facebook Anthropic Skin