Written by: Stefanie Valakas APD (Dietitian), Dynamic Performance Physiotherapy & Sports Medicine
With Sydney winter well and truly here, keeping well and cold & flu-free can be tough! Here's a dietitian's top tips to keeping well using food throughout the season.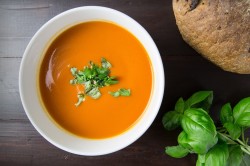 (1) Plenty of fruit & veg
Making sure you're enjoying 2 pieces of fruit (e.g. an apple + 2 kiwi fruit) each day, alongside 5-6 serves of vegetables (1/2 cup cooked or 1 cup raw vegetables), is the best way to ensure you stay well this winter. Fruits and vegetables are filled with a host of vitamins, minerals and antioxidants that work to keep your immune system in tip top shape. Plus, they contain dietary fibre which helps to keep your gut healthy, which plays a big role in your immune function.
Take advantage of the chilly weather and get cooking with a hearty winter soup or stewed fruit with your morning porridge to help you reach your daily fruit and veg needs!
(2) Vitamin C
Unfortunately, stocking up on vitamin C supplements probably won't make too much of a difference if you're already eating a couple of pieces of fruit and vegetables each day. Vitamin C in excess of our body's needs are excreted in your urine.
Starting to take vitamin C when you start feeling sniffly has not been shown to reduce the intensity or duration of the common cold. However, there has been some interesting research into the use of zinc-containing lozenges within the first 24 hours of cold symptoms appearing, which may reduce the severity or duration of the sniffles.
Be sure to check in with a health professional before starting any supplements.
(3) Eating Enough
Not consuming enough energy (or calories) each day, will reduce your immune function and make you more likely to catch a bug. Ensuring you're eating enough can be a tricky balance, however take into account your energy levels, sleep habits and activity levels.
If you need help working out how much is the right amount for you and your lifestyle, drop into the Dynamic Performance Clinic for a 1 hour nutrition assessment with tailored nutrition recommendations. You can book online at dpphysio.com.au or call us on (02) 9568 3779.
Dynamic Performance Physiotherapy & Sports Medicine is a multi-disciplinary physiotherapy and nutrition clinic located at Shop 2-3/111-115 Percival Rd Stanmore. Stefanie's approach to nutrition looks beyond just numbers and nutrients and considers all aspects of lifestyle when providing dietary recommendations for the average person to highly complex health needs.
Follow us on Instgram: @dpphysio & Facebook: @dynamicperformancephysio