We spend so much time sitting –
at work
, at home and in our leisure time, and we're increasingly attached to our smart phones, tablets and other electronic devices.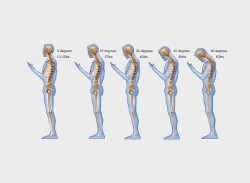 This is having a significant and negative
impact
on the health of our spine, shoulders and neck!
The problem has become so common, the term
'Text Neck'
has been coined to explain the damage being caused. Sitting has also been described as the 'new smoking' thanks to
research
which found that every hour of (seated) TV watching cuts about 22 minutes from our life span…
But not all back, shoulder and neck issues are cause by sitting and smart phones. Accidents, injuries and a range of genetic conditions are also to blame.
The Australian Bureau of Statistics'
National Health Survey
shows that about 3 million Australians (13.6% of the population) have back problems, and an estimated 70–90% of people will suffer from lower back pain at some point in their lives.
So what can you do to prevent and relieve back, shoulder and neck problems?
Keep active
: get up regularly - stretch (use our info-graphic below), take a walk, grab a glass of water or a cup of tea, and talk face-to-face instead of sending an email!
Try yoga and Pilates
: strengthen the spine, improve posture and learn how to manage any existing injuries and issues with the guidance of an experienced teacher.
Natural Therapies
: we're fortunate to have
Crystal Street Family Chiropractic
at our studio, and our Saturday morning yoga teacher
Scott Read
is also an Osteopath with 13 years experience.
Talk to us, if you're experiencing back, shoulder or neck pain – we'll take the time to understand your concerns and design a program to address your specific needs, including private or Remedial Yoga classes if needed.
Download the
info-graphic
for some simple stretches you can do at your desk and don't forget to send us your questions, tips and photos. Email info@yogatogo.com.au or message and tag us on
Facebook
,
Instagram
or
Twitter
.
For more information about yoga for back, shoulder and neck health try the following resources.
Books:
Yoga The Path To Wholistic Health, BKS Iyengar – Yoga sequence for Lower, Middle & Upper Backaches p. 319 - 325
BUY
Yoga and Scoliosis
BUY
Important note:
Remember to always seek the guidance of an experienced and certified yoga teacher, and check with your medical professional if you have any health concerns.