Getting a regular home yoga practice going is not easy. Yet it's one of the best ways to develop and grow your practice and understanding of yoga.
There are distractions, chores to be done and social media to scroll through. Then you have to work out which poses you should do – which can be daunting if you're not a yoga teacher or regularly putting together class sequences.
Three quick home practice tips:
•
A short practice is better than no practice
– don't worry if you only have 20 minutes, its all about quality not quantity!
•
Listen to what your body and mind needs
– a restorative practice including forward bends and inversions is great after a busy day, while a backbend practice might help lift your energy when your energy is low.
•
Happy inversion
s - Sirsasana (headstand) is stimulating and heating and should be followed by a soothing and cooling Salamba Sarvangasana (shoulder stand). While shoulder stand can be safely practiced on it's own, Headstand should always be followed by shoulder stand.
To help kick start your home practice, we've also asked our teachers to put together suitable sequences – like this Beginners Yoga practice from Sarah: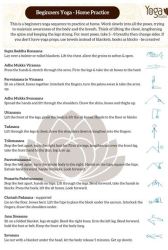 Download the PDF version
here
and stay tuned for more home practice sequences coming soon!
Don't forget to send us your home practice questions, tips and photos – email info@yogatogo.com,au or message and tag us on
Facebook
,
Instagram
or
Twitter.
Important note: Remember to always seek the guidance of an experienced and certified yoga teacher, and check with your medical professional if you have any health concerns.