Mother's Day is just around the corner, so we're looking at yoga for women!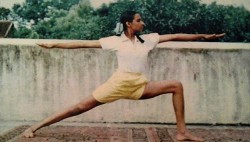 In a world where women can now do just about anything and are busier than ever, yoga has become a great tool for coping with the pressures of modern-day life, while improving overall health and fitness.
We know that some of the general benefits include increased flexibility and strength, improved concentration and sleep, relief from stress and anxiety and lots more - but there are many other reasons why women in particular should practice yoga…
Changes:
A woman's body and mind undergoes many changes throughout her life - in adolescence, pregnancy and motherhood, menopause, and old age. Each stage requires a different level of care, awareness and understanding.
In her book, Yoga a Gem for Women, Geeta Iyengar says, "Women need yoga even more than men as the responsibilities thrust upon them by nature are greater..."
"She has to undergo the four stages of life… In these four stages physiological changes occur and she has to face problems and internal conflicts. This affects her physical and physiological organs as well as her mind…"
Menstruation & Pregnancy:
In Iyengar Yoga, women who are menstruating or pregnant are advised to practice different poses or sequences to the regular class. The body and mind are in a different state during these times and it's for this reason that we avoid inversions, closed abdominal twists, strenuous back bends and hand balances during menstruation.
Geeta Iyengar says "from the day menstruation begins until the day it ends … one should stick to the practice of asanas that do not obstruct the menstrual flow and help a woman keep herself healthy."
Benefits of Yoga for Women:
A regular yoga practice can help women to:
Balance the hormones
Develop emotional stability and mental clarity
Optimise reproductive health
Avoid menstrual disorders
Cope with the physical stresses of pregnancy
Prepare for childbirth
Promote good circulation
We asked some of the 'girls of Yoga To Go' why they practice yoga:

Laura, 25 - Stanmore
I've been practicing yoga for 3 years now and I love how light and stress free I feel after class. It's great to come after a busy day at work and then walk out feeling so much better. I wasn't very flexible when I started, but I can see slow improvements and enjoy the mindfulness aspect too.

Ven, 44 - Leichhardt
I've been practicing yoga on and off for about 12 years now. I instantly loved how it made me feel - like having a full body massage internally and externally and I also enjoy the spiritual side. It really helps with depression and anxiety too - if I'm feeling down, I go to the studio and always feel better afterwards.

Jenny, 53 - Dulwich Hill
My Osteopath suggested I try yoga after a bout of Vertigo about 7 years ago and I have been practicing ever since. I love the quietness it brings to my mind and that we are completely focussed on the body. It also helps me manage my neck injury and I sleep better too!
Margaret, 68 - Bexley North
I took part in the study with the George Institute looking at the benefits of yoga for seniors and enjoyed it so much that I kept coming back. I had a shoulder injury at the time and found that yoga really helped. Now it's something I do every week.
Sarah, 33 - Stanmore
I work in hospitality and get really bad migraines. Since I started yoga and Pilates about one year ago, I haven't spent as much on pain medication or needed to take migraine tablets as much. Yoga is also helping me to manage work-related injuries and digestive problems that I had ignored for years.
For more information about yoga for women we recommend the following resources.
Articles:
Why are we so concerned about menstruation in Iyengar yoga?
The Practice of Women for the Whole Month
Menstruation sequences for self practice
Books:
A Gem for Women, Geeta Iyengar
BUY
Iyengar Yoga for Motherhood, Geeta Iyengar
BUY
The Woman's Yoga Book, Bobby Clennell
BUY
Yoga The Path To Holistic Health, BKS Iyengar p. 30
BUY
Important note:
Remember to always seek the guidance of an experienced and certified yoga teacher, and check with your medical professional if you have any health concerns.