Salamba – with support, Sarva –all or whole, Anga – limb or body, Asana – pose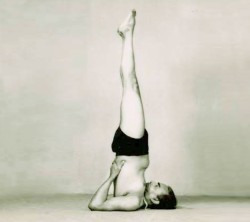 Before there was a Mother of Dragons there was the 'Mother of Asanas', better known as
Salamba Sarvangasana
(or supported shoulder stand). BKS Iyengar describes this pose as on of the most essential in yoga.
In Light on Yoga
he says "just as a mother strives for harmony and happiness in the home, this asana (pose) strives for harmony and happiness in the human system."
Shoulder stand is one of the first inversions taught to beginners, and Iyengar students are required to master Salamba Sarvangasana before starting to learn headstand (Salamba Sirsasana or the King of Asanas).
Salamba Sarvangasana has a cooling, calming and soothing affect on the mind and body, and allows and abundance of blood and oxygen to flow and circulate freely around the heart, chest and throat regions.
Inverted poses bring about more focus, new perspectives and increase feeling of courage and self-esteem.
BKS Iyengar
says that "after a long illness, the practice of this asana regularly twice a day" can help bring back lost vitality. It also helps cold, flu and sinus issues and symptoms and many other ailments.
·
Supports
: the thyroid and parathyroid glands
·
Increases
: blood flow to the heart, chest and throat
·
Helps with
: asthma, headaches and insomnia
Practicing shoulder stand on it's own provides many benefits for the whole body and mind, in contrast headstand (Sirsasana) should never be practiced alone and should always be followed by a Salamba Sarvangasana in any balanced yoga sequence.
Please only attempt this asana under the guidance and supervision of a qualified Iyengar yoga teacher. Beginners should use the support of 5 -6 blankets beneath the shoulders and neck, and a wall can be helpful until they build strength and stability, and learn to balance freestanding.
Salamba Sarvangasana and all inversions should be avoided during menstruation but can be performed throughout pregnancy (using as much support as needed) – only if it was already being practiced regularly before conception.
Download our infographic below for some simple instructions and don't forget to send us your Salamba Sarvangasana questions, tips and photos. Email info@yogatogo.com.au or message and tag us on
Facebook
,
Instagram
or
Twitter
.