This month we're in for a real treat, with a special blog written by the lovely Sarah Bourne herself – one of our wonderful yoga teachers and an award-wining author!
Once upon a time, in a country far, far away, a young woman got it into her head to cycle round India and Nepal with a girlfriend. The two women talked and planned and went for a few cycles together, and then booked their tickets to Delhi and were off.
As soon as they got there, it became apparent that they were not well equipped for their journey; they got lost between the airport and the hotel and spent hours cycling in circles in the heat and the dust.
Undeterred, they set off heading north. Cycling a hundred kilometres a day, soon they were basking in the sun on a houseboat on Kashmir's Dal Lake, laughing about all the marriage proposals they'd had on the way, and wondering why the good looking men never asked.
In Leh Ladakh, they frequented the Ecological Centre, where the food was cooked in solar ovens and the menu boasted, "Chocolate cake (Chocolate pudding on cloudy days)". They spent their time visiting monasteries and looking at the scenery trying to come up with descriptions other than 'amazing' and 'spectacular'.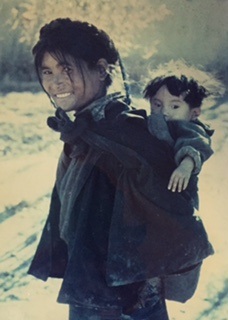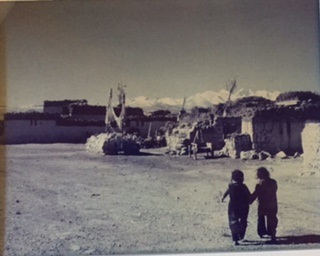 In Tibet, some weeks later, they tried desperately to drink the yak butter tea they'd been given, but had to admit defeat, and made friends with a mute Tibetan woman and her baby. They called her Sunflower because of her smile, and the fact that she gave them sunflower seeds to eat. They gave her a picture of the Dalai Lama they'd smuggled in from Nepal, and she held it to her heart and cried.
In the south of India, a fruit seller on the beach had been taught to speak some English by a cockney. Every day she walked on the sand calling out, "'ere, darlin' – fancy a bit a pineapple, do ya?" And the women did. They couldn't resist her charms or the sweetness of the fruit.
Running out of time, and with a plane to catch, the women got a train back to Delhi. Fifty-six hours, and the train got in ten minutes late. That's the Indian Rail system for you. Good thing too, because they flew out that night after eight incredible months in the craziest, most beautiful, friendly (sometimes over friendly!) countries in the world.
Have you been or planning to visit India, Tibet or Nepal? Check the website to find out when Sarah's yoga classes are, join in and ask her all your travel questions or share your stories with her after class…
Pictures: 1. Sarah - heading off on her cycling adventure, 2. Sarah's most recent professional photo, 3. Sunflower and her baby who gave Sarah sunflower seeds to eat in Tibet, and 4. Tibetan village - Lhatse Chodse.