A TIME FOR CLARITY & REFLECTION, pause as the sun stands still in the sky, be immersed in the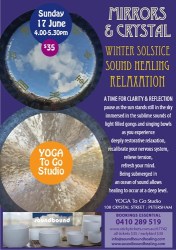 sublime sounds of light filled gongs and singing bowls as you experience deeply restorative relaxation,
recalibrating your nervous system, relieving tension, refreshing your mind.
Being immersed in an ocean of sound allows healing to occur at a deep level. The sonic vibrations of these ancient instruments of sound help to clear negativity and old habits leaving you open for new ideas to emerge with the pure tones of quartz crystal.
Breath and gentle movement will help you open to the healing effects of the sound, supporting you in your journey through specific therapeutic sequences delivered by a qualified sound therapist.
Please bring a shawl or blanket to cover yourself during deep relaxation and water to drink ~
whatever you need to be completely comfortable.
BOOKINGS ESSENTIAL
Christine 0410 289 519
info@soundboundhealing.com
www.soundboundhealing.com
MIRRORS & CRYSTAL Winter Solstice Sound Healing Relaxation
Yoga To Go Studio in Petersham
Sunday 17 June 4.00-5.30pm
$30 earlybird until 31 May
$35 from 1 June
Booking avilable via Stickytickets