Sunday 16 September 5.00-6.30pm
REJUVENATE : REFRESH : RENEW : REBALANCE

Spring Equinox is a special time of equal Day and Night, the perfect opportunity to re-balance your emotions and rejuvenate your senses.
Experience deeply restorative relaxation as the sound vibrations transport you to a place of profound healing, recalibrating your nervous system, relieving tension, refreshing your mind.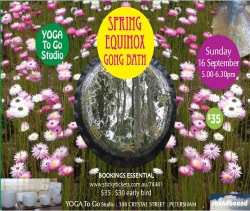 This is a great opportunity to emerge into the sweet sounds of Spring with a healing Soundscape of light filled gongs, bronze and crystal singing bowls and sound meditation to elevate and enlighten.
Being immersed in an ocean of sound allows healing to occur at a deep level. The sonic vibrations of these ancient instruments of sound help to clear negativity and old habits leaving you open for new ideas to emerge with the pure tones of quartz crystal.
Breath and gentle movement will help you open to the healing effects of the sound, supporting you in your journey through specific therapeutic sequences, delivered by a qualified sound therapist.
Please bring a shawl or light blanket to cover yourself during deep relaxation and water to drink ~
whatever you need to be completely comfortable.
BOOKINGS ESSENTIAL
Christine 0410 289 519
info@soundboundhealing.com
www.soundboundhealing.com
Spring Equinox Gong Sound Healing Rejuvenation
Yoga To Go Studio in Petersham
Sunday 16 September 5.00-6.30pm
$30 before 1 September ot $35 after 1 September
Bookings Essential: https://www.stickytickets.com. au/74441
FaceBook Events : https://www.facebook.com/ events/288607335027691