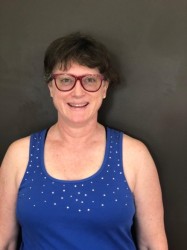 "If I can do yoga, anyone can!"
Vanessa Sinclair, aged 48 from Annandale has been attending yoga classes at Yoga to Go Studio every day for the past 6 months, but just two years ago she would have told you it wasn't for her…
"Looking back now, I wasn't very open minded. I thought that people who did yoga were a bit mystical. They could do the most amazing things with their bodies and looked super athletic. Now, I love it and there's not a single day that I don't want to go to class!"
We talked to Vanessa about her yoga journey recently and here's what she has shared:
What first brought you to yoga?
It was my doctor who first suggested I try yoga to help with my posture. I have a background in science and mathematics, so I figured that if a doctor was recommending yoga, it must be OK. I started with one class a week and absolutely loved it from the very beginning.
Why YTGS?
I tried yoga for the first time about 5 or 6 years ago. It was a 6-week-course and there was just a lot of laying around on the floor. A few years later I tried some classes at a gym. It was completely different, but also not for me. What I love about the classes at Yoga To Go Studio is the genuine care and individual attention from the teachers. It doesn't matter how hard a pose is or what your limitation might be - you always feel supported and encouraged. It's a great environment with lovely people and that makes a huge difference.
What benefits have you experienced?
I thought I was naturally strong because of my build but practicing yoga has really increased my strength and helps with my overall fitness. It also helps with existing injuries like my wonky knees, funny feet, bones and ligaments damage. Emotionally and mentally it's great too - and so relaxing!
What are you favourite and most challenging poses?
My favourite poses change all the time as I keep learning new things. For example, I'm really enjoying Sun Salutes (Surya Namaskar) at the moment, but I couldn't handle them in the beginning. I just didn't have the strength or flexibility. I find Triang Mukapada Paschimottanasana[1] really challenging, as I need a lot of height to sit on, and then my hips are still uneven!
---

[1] In Sanskrit triang means three limbs, mukha means face, eka means one, pada means foot, paschima means west, uttana means tense and asana means pose - Three Limbs Facing Intense West Stretch Pose