Salamba – with support, Sirsa – head, Asana – pose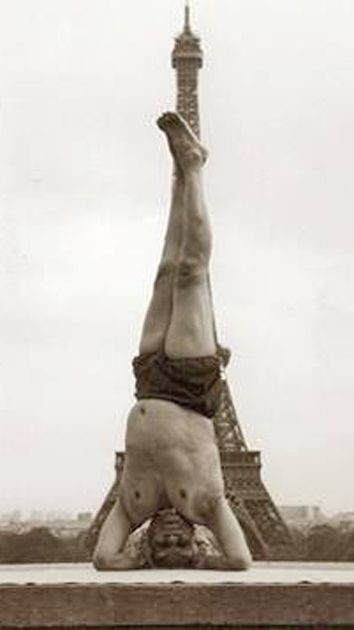 Known as 'King of all Asanas', Salamba Sirsasana (or supported headstand) is an advanced yoga pose that is described by BKS Iyengar as one of the most important poses.
Taught to students only after they have mastered Salamba Sarvangasana (supported shoulder stand) - Salamba Sirsasana can have a highly stimulating, energizing and refreshing affect on the body and the mind!
In A Gem for Women, Geeta Iyengar says upside-down poses like Sirsasana help counteract the effects of our normal upright position and refresh the internal organs, which have a tendency to sag and become sluggish.
On the mind, inverted poses can bring about more focus, new perspectives and increase feeling of courage and self-esteem. It's even been said to help relieve cold, flu and sinus issues and symptoms among many other benefits.
·
Strengthens:
shoulders, arms, the spine and core
·
Increases:
blood flow to the brain, scalp and eyes
·
Helps with:
digestion, stress and anxiety
Sirsasana will literally turn your world upside-down! It can feel scary at first but BKS Iyengar reminds us that falling is OK and part of life and the learning process…
Please only try this asana under the guidance and supervision of a qualified Iyengar yoga teacher. Beginners should use the support of a wall until they can balance freestanding. Props such as sticks and blocks can also be used to support beginners and help build strength and stability.
Salamba Sirsasana and all inversions should be avoided during menstruation but can be performed throughout pregnancy (using support, until one becomes too uncomfortable or heavy) - if it was being practiced regularly before conception.
Download our infographic
for some simple instructions and don't forget to send us your Salamba Sirsasana questions, tips and photos. Email info@yogatogo.com.au or message and tag us on
Facebook
,
Instagram
or
Twitter
.
For more information about Salamba Sirsasana we recommend the following resources.
Video:
John Schumacher teaches Salamba Sirsasana
– 7 minutes
Books:
Light on Yoga, BKS Iyengar p. 179
BUY
Yoga The Path To Wholistic Health, BKS Iyengar p. 138
BUY
A Gem for Women, Geeta Iyengar p. 180
BUY
Important note: Remember to always seek the guidance of an experienced and certified yoga teacher, and check with your medical professional if you have any health concerns.