Welcome to our new quarterly blog feature - Humans of Yoga To Go Studio

This month we meet one of our yoga teachers Renee Stridfeldt and ask her 5 quick questions, to help us get to know her and our wonderful little community.

What's the scariest or craziest thing you have EVER done?
Skydiving (but also one of the most amazing things I have done)



What personal achievement are you most proud of?
Walking 50kms over 12 hours to fundraise money to help restore eyesight in third world countries.
What's your greatest challenge right now?
To fit training (for my upcoming three week hiking trip in Nepal), yoga, work and life's surprises into my schedule.

The zombie apocalypse is coming - what 3 things do you do?
I would hug as many people as I possibly could, drink expensive champagne and ride my motorbike
Describe one area of your life that has been transformed by Yoga?
Tough question, it's enhanced my whole life - but probably the ability to be me, without being affected by other people, negativity, fears or bad habits.
Renee
regularly teaches our 9:30am Saturday morning Beginners Yoga and 7:30pm Thursday evening classes – join her on the mat, and if you're into Harley Davidson motorbikes, hiking, travelling and authentic Indian food, stop and have a chat with her after class!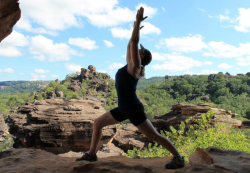 Pictures:
1. Renee travels to India regularly for work and has also trained at the Iyengar Yoga Institute in Pune – she clearly loves the local food and Chai, 2. Renee is a proud Harley Davidson owner and motorbike enthusiast (with one of her favourite teachers from India: Gulnaz) and, 3. Renee - practicing her Virabhadrasana I (Warrior 1) during a trip up to Darwin in the Northern Territory.