Ut – intense, Tan – to stretch, extend or lengthen, Asana – pose
Yoga is not just about touching your toes, as this month's blog and pose will demonstrate.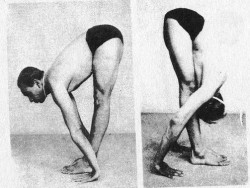 Simply called a standing forward bend by some yoga teachers, Uttanasana is a full back-body stretch that has many physiological benefits such as slowing down the heartbeat, curing stomach pains and menstrual cramps, and toning the liver, spleen and kidneys.
BKS Iyengar explains in his book Light on Yoga that Uttanasana will help relieve feelings of depression if held for two minutes or more, and this pose will also leave you feeling "calm and cool, the eyes start to glow, and the mind feels at peace…"
· Stretches: hamstrings, calves, hips and back
· Improves: digestion and stimulates the liver and kidneys
· Relieves: headaches, insomnia and anxiety symptoms
A good pose for beginners who are not ready for full inversions, Uttanasana can be done in a variety of ways for a wide range of physical abilities and issues including - feet together or apart, hands to a wall or chair, head supported, holding on to the elbows or the heels and many other variations to help lengthen the spine and side trunk.
While the final pose is done with the feet and ankles together, and the hands on the floor beside the feet, pregnant and menstruating women should take their feet hip-width apart to keep the abdomen soft and give the pelvic area space.
Avoid Uttanasana if you are suffering or recovering from a back injury, however you can also try bending the knees or use a wall to do Ardha Uttasanana (half Uttanasana) instead. Always remember to seek the guidance and supervision of a qualified Iyengar yoga teacher before performing any asana!
Download our infographic below for some simple instructions and don't forget to send us your Uttanasana questions, tips and photos. Email info@yogatogo.com.au or message and tag us on Facebook, Instagram or Twitter.
Download our Uttanasana infographic HERE