Ardha – half, Chandra – shining or moon, Asana – pose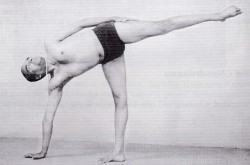 A favourite for beginners and more experienced yoga practitioners alike, Ardha Chandrasana is a wonderfully uplifting and liberating pose that allows the entire front body to expand and open outwards…
In this balancing pose, we stand with one leg and hand down on the floor and the other leg and arm stretching out and up to create the 'half-moon' shape. While the bottom hand or fingers are resting on to the floor most of the weight should be in the standing leg, requiring it to be strong and stable.
BKS Iyengar explains in his book Light on Yoga that this posture is beneficial for those with damaged or weak legs as "it tones the lower region of the spine and the nerves connected with the leg muscles…"
But this pose isn't just about the physical work – it also requires great focus and a quiet mind. In Light on Life, BKS Iyengar explains that when we practice this pose "We get the balance, but the moment the thought arises, 'Oh, wonderful, I'm doing it!' we wobble or topple. Only in stillness of mind can it be successfully maintained."
Strengthens: ankles, legs, buttocks, spine and abdomen
Stretches: calves, hamstrings, groins, spine, chest and shoulders
Improves: coordination and balance
Relieves: stress, anxiety, gastric troubles and backaches
If your balance is not great (yet!), or if you're fatigued or pregnant you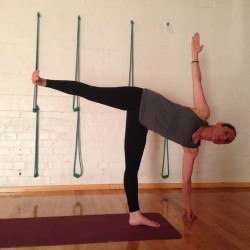 can still practice and work in this pose with the back against the wall for support.
Beginners usually learn this pose by going through Trikonasana (triangle pose) first, to establish the work of the front leg and the lateral extension of the torso. Many cannot reach their bottom hand or fingertips to the floor, so a block, chair or any other object can be used to ensure they can press the hand into something and experience the inspiring benefits of this pose.
You can watch BKS Iyengar doing this pose in this short video or check out this video featuring his granddaughter Abhi, with Raya - one of the long-time students and teachers from the Ramamani Iyengar Memorial Institute (RIMYI) in Pune.
Download our infographic below for some simple instructions and don't forget to send us your Ardha Chandrasana questions, tips and photos. Email info@yogatogo.com.au or message and tag us on Facebook, Instagram or Twitter.