Utthita - extended, Trikona – triangle, Asana – pose
Utthitha Trikonasana is one of the first standing poses taught to beginners in yoga. It may appear simple but it's not an easy pose to master, nor should it be overlooked by more experienced practitioners.
More commonly called Trikonasana or 'triangle pose', with continued practice this asana can bring many ongoing benefits for new and skilled students alike.
As we learn to find stability and balance on our feet, stretch the spine and open the chest, we are also strengthening and stretching many other areas of our body – and mind!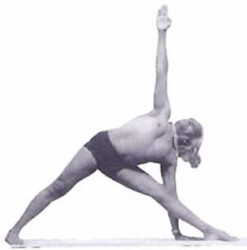 · Strengthens: legs, knees, ankles, arms and chest
· Stretches & opens: hips, groins, hamstrings, calves, shoulders, chest and spine
· Helps with: digestion, stress, anxiety and some lower back pain
Trikonasana can be safely practiced by almost everyone, including pregnant women and seniors. If balance is unsteady or there's a heart condition, take your back to a wall for support and keep the top hand on the hip. Students with neck issues should look ahead and not turn the head upward.
Download our infographic
for some simple instructions and don't forget to send us your Trikonasana questions, tips and photos. Email info@yogatogo.com.au or message and tag us on
Facebook,
Instagram
or
Twitter
.
For more information about Trikonasana we recommend the following resources.
Videos:
John Schumacher teaches Utthita Trikonasana
– 3 minutes
Trikonasana with Dr. Geeta Iyengar
- 26 minutes
Books:
Light on Yoga, BKS Iyengar p. 63
BUY
Yoga The Path To Wholistic Health, BKS Iyengar p. 72
BUY
Important note:
Remember to always seek the guidance of an experienced and certified yoga teacher, and check with your medical professional if you have any health concerns.