This month we get to know another of our wonderful yoga teachers, Nikki Little. She first started practising with us at Yoga To Go Studio (YTGS) in 2003, and quickly developed a curiosity and passion for the practice and philosophy. Just four years later, Nikki commenced teacher training with Alan Goode in ACT and now has her Introductory II Certification.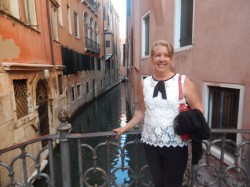 What first brought you to yoga?
I was working in a senior management role and needed to find something to help me relax. I also suffered from terrible back pain and someone suggested yoga. The first class changed my life. It was just what I needed – time out from my busy day and the chance to focus on my breath. My interest only grew and soon practice became a daily ritual and the pain in my back improved.
Why Iyengar Yoga?
I tried a few different yoga styles and schools but kept injuring myself. I knew I needed to find a school that would keep me safe and work with my alignment. I contacted Yoga To Go and asked – will you show me and adjust me in a pose, so I can learn? This was my first exposure to Iyengar Yoga but pretty soon I was at the school every day!
Tell us about your yoga practice:
When I first started I couldn't sit straight without the support of a wall, but I just wanted to keep learning. I now have a daily practice. It's my time to reflect on the day and what happens on the mat tends to inform the day ahead. I gain more perspective, and a quiet calm.
What benefits have you experienced?
I am an asthmatic and yoga has really helped improve my breathing. Pranayama is a big part of my practice. I feel stronger now in my 50's than I ever felt in my 20's or 30's. I always know when I have missed my practice – physically I do not have the same stamina or flexibility, and emotionally I do not have the calm or patience.
What are you favourite and most challenging poses?
I love balancing poses like Ardha Chandrasana (half-moon pose) and Adho Mukha Vrksasana (handstand). It's fun to balance – it gives me an idea of my headspace. There are so many poses I'd still like to master, but if I had to pick two I would choose Astavakrasana and Kapotanasana.
Tell us about teaching at YTGS:
I started teaching in 2007, and currently teach 2 classes a week at YTGS on Monday and Saturday. It's such a joy to be able to teach and I love sharing what I have learned with my students.
Do you have any other hobbies or interests?
I changed to a vegetarian diet about 14 years ago and enjoy trying and cooking new vego dishes. I also love to travel and explore different countries. There's something wonderful about getting lost in a new city and discovering something new and surprising.
Five years from now – where will you be?
Still practicing and teaching yoga, and off on another big trip….
If your experiencing back pain? Have asthma? Or maybe you just need to unwind from your busy and stressful job? Join Nikki's classes and chat with her about how yoga can help you too. Visit our website for more info and to book.
Pictures: 1. Nikki in Venice, Italy. 2. Nikki in Sirsasana (headstand)