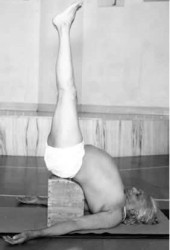 The physical health benefits of yoga, like increased strength, flexibility and balance have long been known and accepted. However, in recent years scientists and researchers have also begun looking at the affect that yoga can have on our mental and emotional health.
Their studies have since shown that yoga is also helpful in managing stress, anxiety and improving overall mood. Yoga is now even being used in prisons and to help people suffering from PTSD to recover and manage symptoms.
Unfortunately, stress is an unavoidable part of modern day life, and we may never be able to completely eliminate it. So making sure that we get enough quiet time to truly rest and relax has never been more needed!
In his book Light on Life, BKS Iyengar explains that in yoga, "our aim is to be able to deal with stress as and when it arises, and not to imprint and accumulate it in the body's various systems." (Page 62)
He goes on to say, "because of this fast life, we are neglecting the body and the mind. The body and the mind are beginning to pull each other in opposite directing, dissipating our energy. We do not know how to recharge our batteries of energy. As a result, we become careless and callous." (Page 62)
"Yoga allows you to find an inner peace that is not ruffled and riled by the endless stresses and struggles of life. Yoga allows you to find a new kind of freedom that you may not have known even existed." (Page 9)
A restorative Iyengar yoga practice is a great way to calm the mind and nervous system, and manage stress and emotional disturbances. A restorative yoga sequence usually involves fewer poses that are fully supported by props to allow students of all levels and abilities to rest comfortably for longer periods of time – about 5 minutes or more. This allows the body and mind to settle, soften and become quiet.
Join our NEW 6-week Rest and Restore course starting at 7:30pm on Wednesday 12 April or simply drop in to these weekly classes when you can and experience the soothing benefits of a restorative yoga practice for yourself.
If you'd like to try a restorative practice at home, download BKS Iyengar's Asanas for Emotional Stability sequence
HERE
and send us any of your restorative yoga questions, tips and photos. Email info@yogatogo.com.au or message and tag us on
Facebook
,
Instagram
or
Twitter.
Important note: Remember to always seek the guidance of an experienced and certified yoga teacher, and check with your medical professional if you have any health concerns.